AutoMist is now BugArmor by Pyranha

Simple and Reliable - for over 20 years
An Automatic Fly Spray System is a proven drum style automatic insect control system that offers extremely reliable service. Straight-forward, simple operation to limit mechanical failure. We have not only been a dealer for many years, we have installed and used one for over 20 years. We can walk you through the simple installation process. We are available to you 7 days a week, 365 days a year.
The best of all worlds - automatic insect control designed for simplicity and longevity. It will make your barn fly free and you home mosquito free.
Horse Stables, Livestock Facilities, Deer Pens, Kennels
ARE YOU READY FOR FLY SEASON?? See what The University of Georgia has to say about fly control:
Read the report
From a small dairy barn to a large commercial stable. From large deer pens to a 6 run kennel - Automatic Sprays System aid in creating a pleasant atmosphere for animals and owners.
– Automatic Sprays Systems do dramatically aid in creating a pleasant atmosphere for animals. We have been involved with Arabian horses for over 25 years. We have always wanted the very best for our horses and to have a pleasant place for visitors to view our horses in our barn.
To do so, we had to do all we could to keep the fly population at a minimum. Keeping the manure out of the barn is certainly a help, but without an automatic fly control system, controlling the fly population is impossible. Enter Automatic Sprays Systems! If you want to keep your animals safe from the problems associated with flies and mosquitoes, this is your answer. Automatic Sprays System also aid in creating a pleasant insect-free atmosphere.
All of our offered systems have designed their systems to provide their customers with a product that exceeds their needs. Quality components and installation techniques play a large part. The Automatic Sprays System work as simple as 1 - 2 - 3.
55- Gallon System handles up to 70 nozzles and up to 1000 feet of tubing.
Refills sold separately.
Horse Stable Installation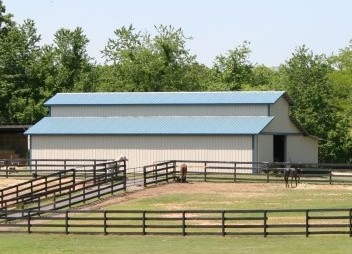 For the best control we recommend placing one (1) spray nozzle assembly in the center of each 10' x 10' to 12' x 12' stall and one (1) spray nozzle assembly near each aisle way door. Nozzle assemblies are not needed in feed areas, wash areas or tack rooms - excellent control is accomplished by installing nozzle assemblies in areas that house horses only.
Nozzle assemblies down the aisle way area are not needed but can be added per customer request. We have always done the isle as it cost little to get this additional coverage.
Dairy & Cattle Barn Installation
Holding areas and loafing sheds provide a good area for installation. Controlling insects in these areas provides a more comfortable atmosphere for livestock. Comfort often leads to increased production and higher yields.
One (1) spray nozzle assembly per 100 square feet with-in the interior of a shed or barn and one (1) spray nozzle assembly every 10 feet over any open side walls.
Both the interior and exterior areas of a kennel offer excellent spots for nozzle installations. Automatic spraying lowers mosquito and fly populations, thus adding comfort to animals.
Exterior: One (1) spray nozzle assembly per average length kennel run.
Interior: One (1) spray nozzle assembly for every 80 - 100 square feet.
Pyrethrin and Permethrin
These two insecticide ingredients are extremely effective against flying and crawling insects yet safe for use on and around animals.
Over the years we've learned that rotation between the two often can yield the best results. When used with PBO (Pipernyl butoxide), increased effectiveness, faster knockdown and lowered resistance are common advantages.
Auto Spray Systems can help aid in the control of diseases carried by insects and parasites, thus reducing the potential spread of infections and contamination.
Livestock Brochure,
click here
Residential Systems
The presence of flying insects that sting and bite has become much more that just a nuisance and irritation and we all like to spend time in our yards and gardens. Experts and National organizations are issuing regular updates and warnings about mosquitoes and insect control. Many of them suggest that with the mobility of our modern society the West Nile Virus(WNV) and some of the diseases that follow will be very difficult to control.
There are several options available to consumers such as repellants and over the counter sprays such as Deet, but many sources recommend limited exposure especially for young children. You may not have a choice when traveling but you do at home.
Yards are just one popular area for automatic insect control. Patios, porches, gardens and courtyards are just the beginning.
Outdoor restaurants and cafes, tennis courts, golf courses and parks can also enjoy the benefits.