Lasting the Test of Time
For over 25 years Auto Mist Systems have proven to be a vital resource in the fight to control insects.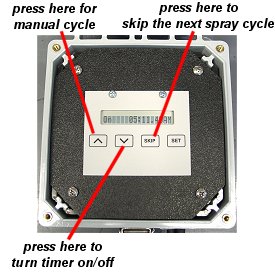 We manufacture our timers to combine reliability with ease of use. Customers often comment on our compact yet highly functional design. Adjustability is important! That's why our timers can perform numerous cycles per day if necessary.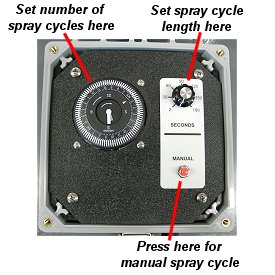 Customers brag that the Auto Mist digital remote control timers are one of the easiest on the market to program. Other digital timers offer features that are confusing or not needed. We only use features that are useful, like - manual cycle and skip the next programmed cycle. This eliminates confusion and makes customers happy.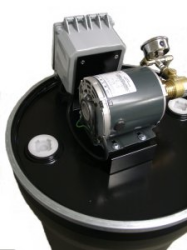 The standard Auto Mist unit comes with a 1/3 HP carbonator motor coupled to a 140 GPH brass vane pump. This combination provides enough power to feed up to 70 nozzles.
2" ports in the lid make refilling easy and convenient. The metal locking ring holds the lid in place for safety and security.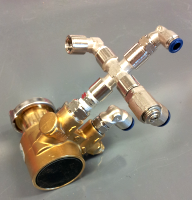 Tubing Choices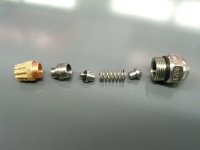 We have offered the Hago 4023 nozzle for over 25 years. Hago nozzles are the highest quality nozzle offering superior performance and reliability. With hundreds of thousands installed, we know they're a great nozzle.
Machined internal check valve gives non-drip function while sintered bronze filters help keep nozzle orifices clean.

Deluxe Copper Riser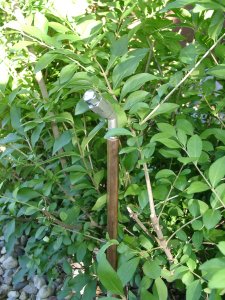 26" riser (total height), perfect insecticide application height.
Hago nozzles for best quality spray pattern and limited clogging.
45 degree quick fit nozzle body.
Slim 1/2" copper for seamless and appealing integration into landscaping.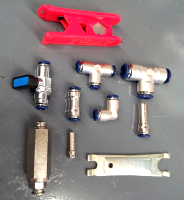 Assortment of nickel plated fittings and accessories - 1/4" union tees, elbows and straights, 3/8 fittings, tubing reducers, inline filters, ball valves, fitting plugs, tubing cutters and more.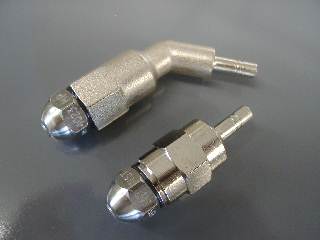 Nickel plated nozzle adapters and Hago 4023 nickel/silver nozzles offer superior protection from corrosion. Simple, quick and easy are a few words that describe our nozzle assemblies and fittings. Interchangeable fittings can be used on either of our nozzles - straight or 45 degree. (adapters and nozzles with out fittings pictured)
This style of tee nozzle assemble is the best choice for the majority of installations. The tee nozzle assembly is excellent for livestock applications, one tee nozzles per 12' x 12' stall or area. This style nozzle works great on fence lines in back yards or along a deck railing.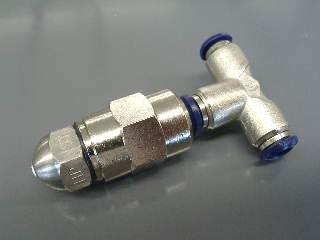 Elbow nozzle assemblies are used at the end of a tubing run so that an air bleeder valve is not necessary. Simple system hydraulics pushes air out and liquid through. Internal check valves create a vacuum once the system finishes a spray cycle.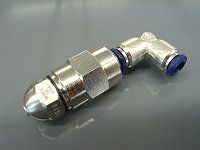 The fitting release tool makes changing fittings and nozzles in the field a snap. For quick service - if a nozzle becomes plugged over time simply pop the adapter and nozzle out and pop in a new one. Simple as that. The nozzle tip can later be cleaned or replaced.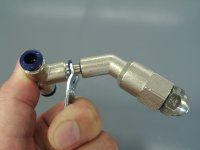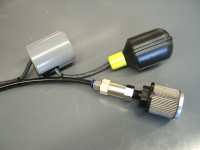 We protect our pumps by using a liquid level control. This control senses when the liquid is low and disables the pump. Once the system is filled the control senses it and enables the pump to be operable once again.The assembly pictured shows the liquid level float bulb and weight fastened to the suction tubing. Also pictured in the assembly are the 100 mesh suction filter and lower check valve. We use a check valve system on intake and return tubing lines which maintains liquid in the tubing for quicker starts.